Chateau Clara Futura ****
A renaissance chateau with a beautiful chapel surrounded by relaxing gardens, packed full of modern technology. Without the tiresome noise of the centre of Prague, yet still within easy reach of public transport and taxis.
CHATEAU ACCOMMODATION
The chateau complex offers luxury accommodation in 40 double rooms in five categories: 16 Superior rooms, 10 Deluxe and 12 attic Comfort rooms. For special occasions, there are two themed suites: the Wedding Suite and the Archbishop's Suite.
A tasteful design interconnects the original period elements with modern architecture and is the work of the Šafer Studio, Hájek Architects and Mimolimit Studio. Each room is unique just like the hotel facilities. They are all equipped with state-of -the-art modern technology for maximum living comfort.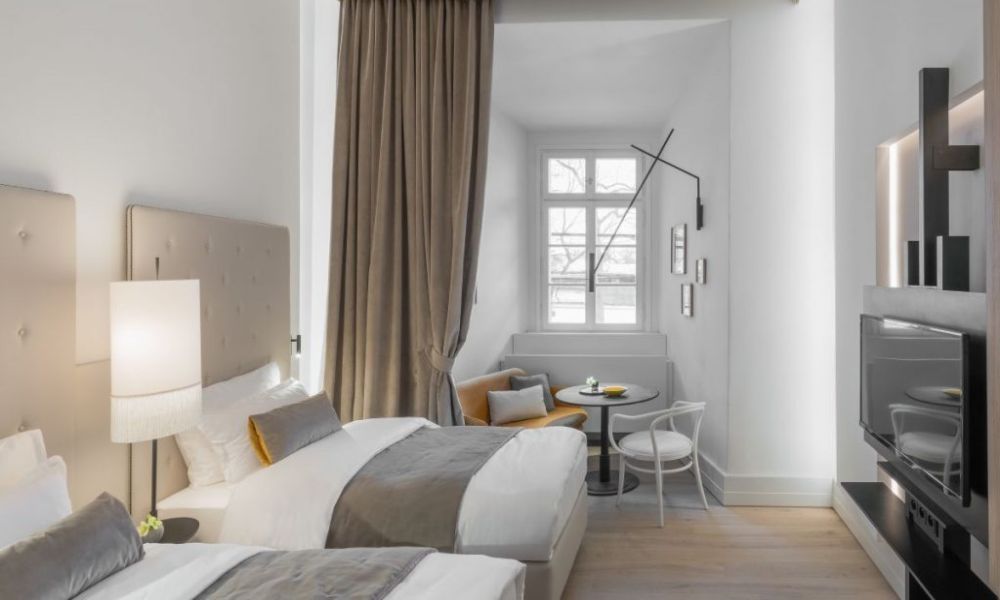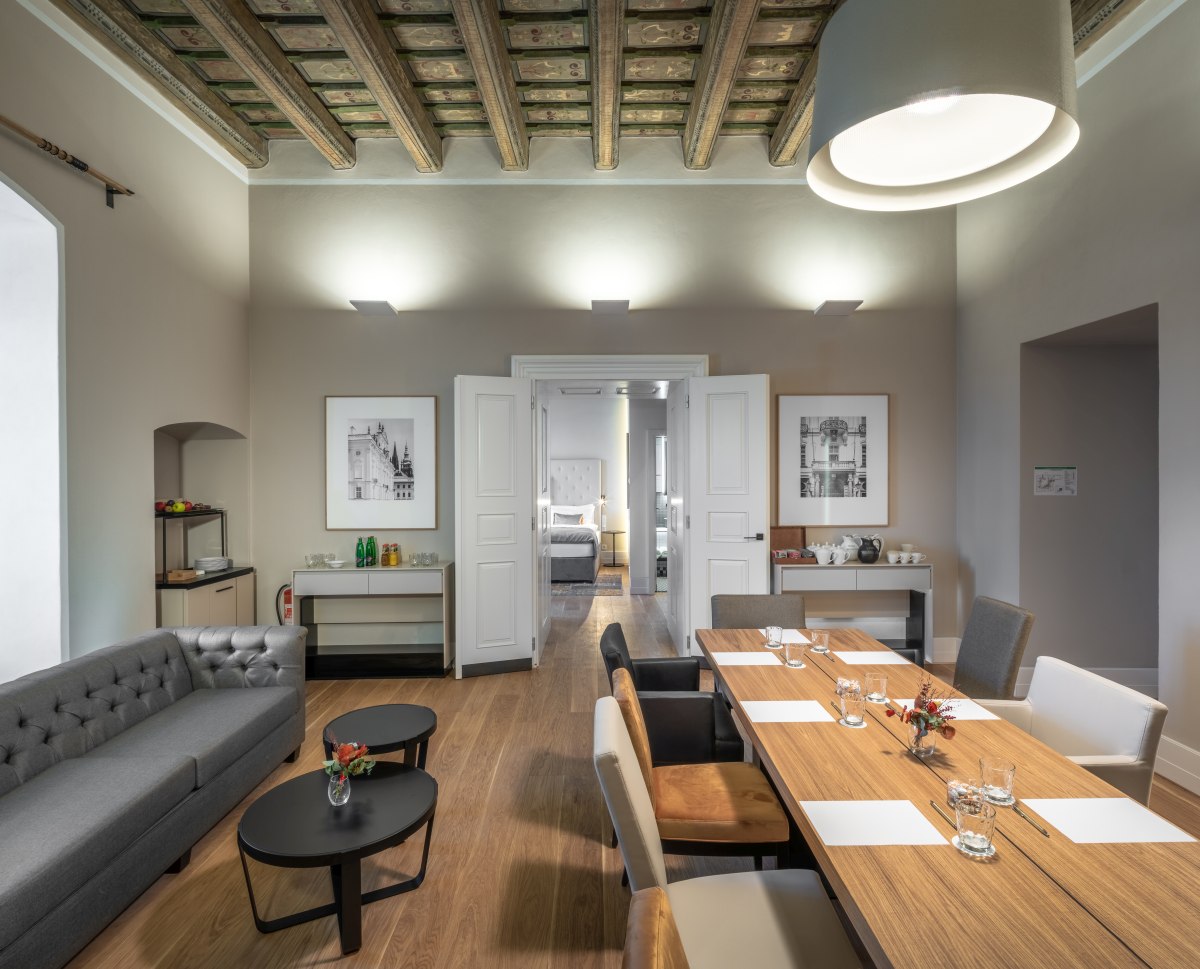 CONFERENCE FACILITIES
The chateau complex is a perfect combination of history and modernity. The technology packed, bright and friendly space offers sufficient capacity for a concurrence of events without disturbance at the same time. Whether you are looking for a discreet facility for intimate meetings, a place to present a new product or brand, teambuilding, a small or big party, training for your employees or partners, or you are going to organise a really large international event, you are at the right address.
The professional hotel team can accommodate your needs by arranging a foyer, restaurant, two lounges, a conference room and outdoor areas in the relaxing gardens. We are only half an hour from the bustling centre of Prague. You can easily reach us from your home in Prague by public transport or taxi.
RELAXING GARDENS
Fancy a stretching on green grass? Undisturbed relaxation on a chateau bench? A walk? A picnic on a traditional chequered blanket? Or do you just want to watch your children playing safely from your room window?
Huge, big, small or really just an intimate wedding? Church or civil? With us it will be unforgettable. You can say "I do" in the historic wedding chapel of St. Mary Magdalene or get your first married kiss in the open air.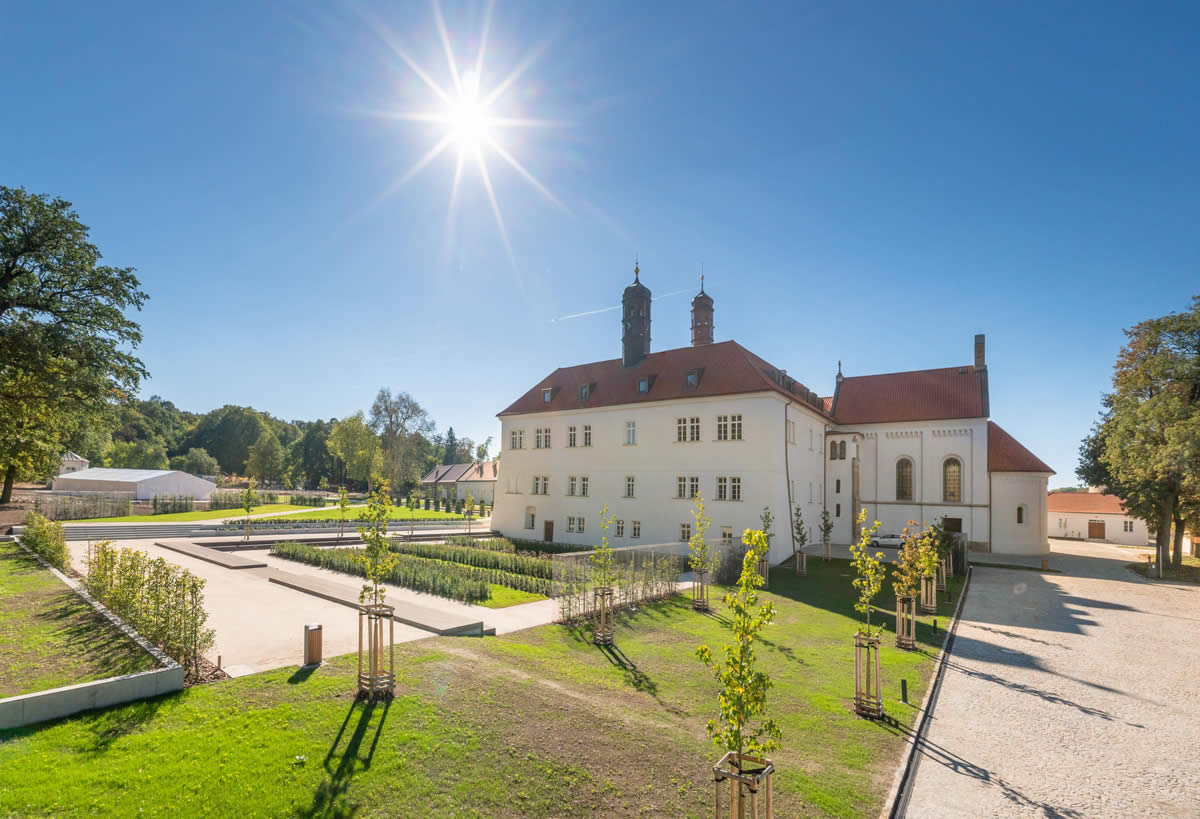 WE ALSO TAKE YOUR SMALL PRINCES AND PRINCESSES INTO CONSIDERATION
All children under 12 stay free of charge in an extra bed.
All children under 2 stay free of charge in a baby cot.
All older children or adults on an extra bed are charged 40 EUR per person per night.
Some rooms can be connected to create a family room with two bedrooms; the price depends on the age of the children.
We are happy to provide baby cots at the hotel reception.
Interior parking allows comfortable and safe loading and unloading of all car passengers.
CARS MONITORED BY CAMERAS
The chateau complex has plenty of parking spaces, including parking spaces for guests with limited mobility. The car park is under constant camera surveillance. The hotel staff are available to help you with loading and unloading luggage at any time.
WE CAN TRANSPORT YOU TO WHEREVER YOU NEED TO GO
On request, we can arrange to transport you to and from Václav Havel Airport, or a train or bus station. You can also use a car rental service. All these services can be booked at reception before arrival or at any time during your stay.
24-HOUR RECEPTION
The hotel reception with a lobby bar is available to you and your guests 7 days a week, 24 hours a day. We are happy to arrange for you
to receive and send post,
delivery and receipt of shipments and messages,
purchase of tickets or required reservations and other services.
You can order them at reception before arrival or at any time during your stay.
PETS ARE WELCOME
The charge for a four-legged guest up to 6 kg is 500 CZK / 20EUR night.
If they are disciplined enough not to disturb other guests.
BREAKFAST FOR EVERY GUEST
Don't forget to visit our restaurant for a welcome drink after you arrive.
Breakfast in the form of a very rich buffet is included in the price of the room. So don't wander off in the morning!
CHATEAU CUISINE EXPERIENCE
Our chefs in the beautiful chateau restaurant with a capacity of up to 80 guests and a summer garden for 60 guests are ready to cater to your every need or meet the specific desires of the smallest guests. And if you still don't want to leave your room, never mind. Sweet, savoury, cold or hot – we'll bring the selected refreshments to you. We are also happy to prepare a pleasant seating area, business meeting or a celebration. You just have to ask.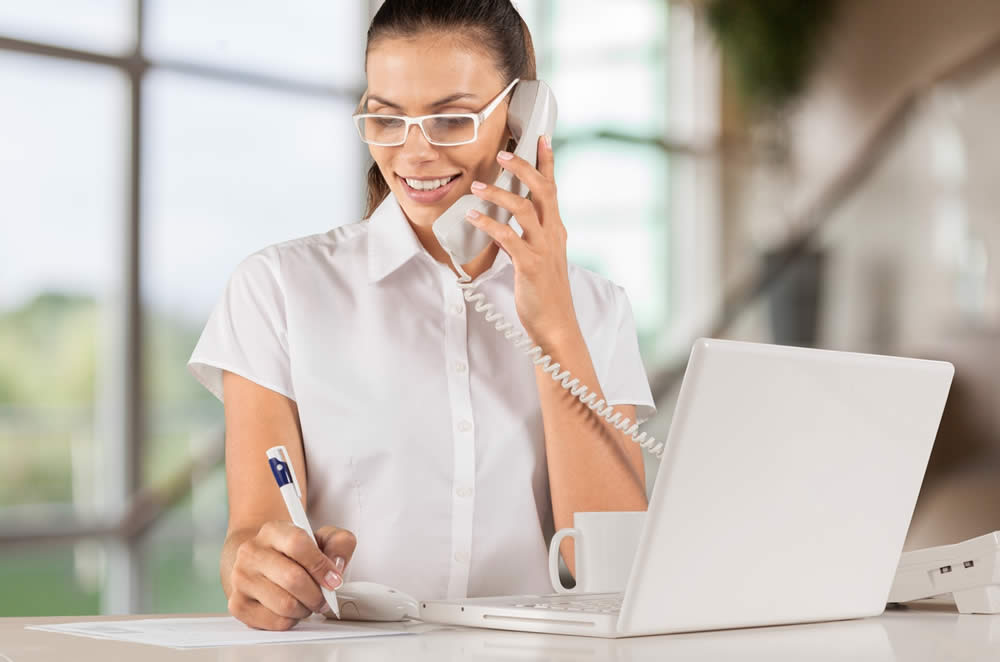 WANT TO WORK AT A CASTLE?
Right now we are looking for the members of the hotel's castle team.
We do not look for everyone. We are looking for responsible people who want to be part of a beautiful, unusual environment. People who care about the details as well as the whole. People who take their jobs seriously – do not just want to go to work.
Because we – the hotel team – we are half the result.
Join us. Send your CV to info@clarafutura.cz.
HOW TO REACH US
Dolní Břežany is situated approximately in the southern outskirts of Prague, only a few kilometres from Prague's Písnice, Šeberov or Chodov.
The village is about 10 minutes away from the Chodov exit to the Prague arterial road on the D1 Motorway, and reaching the Prague ring road takes the same time.  In the opposite direction, you can drive from Zbraslav through the scenic Břežanské Valley that leads under the Celtic oppidums of Závist, Hradiště and Šance. All access roads are carefully maintained the whole year round.
The bus stop for the Prague suburban lines 331, 333, 341 and 960 is about 5 minutes walking distance from the Chateau area. These connect Dolní Břežany with Kačerov metro station.
Hotel Chateau Clara Futura